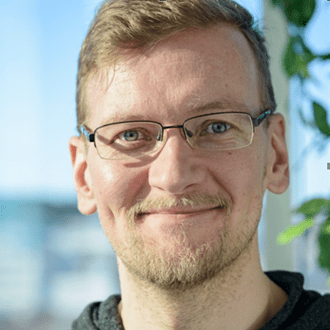 Timo Kortelainen
HR Manager / Project Manager – Software production
Olen Timo K. ja liityin Pinja-perheeseen 2021 projektipäällikkö-tittelillä. Jo ensimmäisen Pinja-vuoteni aikana ehdin toimia vanhempana ohjelmistotestaajana, projektipäällikkönä, esihenkilönä ja scrum masterina. Toimialoista energia-ala, terveydenhuolto ja maatalous tulivat tutuiksi. Saa nähdä, mitä kaikkea tulevat projektit tuovat tullessaan!
Olen elämäntapafillaroija ja viime aikoina olen innostunut lätkimään padelia. Perheen kesken on mukava käydä luontoretkeilemässä lähimaastoissa ja ihmetellä vuodenaikojen kiertoa.
---
My name is Timo K. and I joined the Pinja family in 2021. Already during my first year here, I had the chance to work as Senior SW Testing Engineer, Project Manager, Human Resources Manager and Scrum Master. Talk about job versatility! In those roles I became somewhat familiar with energy, health and agriculture industries. Let's see, what coming years and projects bring along!
I'm a cycling enthusiast and lately I've found myself on a Padel court with my friends almost on a weekly basis. I also enjoy walking in the nature and exploring its wonders with my family.