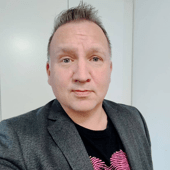 Ismo Tolonen
Project Manager – Software
My name is Ismo Tolonen and I have worked for Pinja for six years. My job title is Project Manager, although my duties are quite varied.

My everyday work consists of leading projects for both software production and startups related to the Once product. In addition, I am a supervisor for approximately 10 employees and responsible for handling general affairs in the Kuopio office. 
The best thing in my job is its versatility: my workdays are never the same. Twenty years' experience in the field as well as the peer support offered by several hundreds of experts at Pinja help me cope even with the most difficult challenges. Successes, of course, increase motivation and a satisfied customer is the alpha and omega of everything. 
At work and during leisure time, I rely on an open approach, which will take us far. In my view, everything should not be taken too seriously but rather seasoned with a pinch of humor.