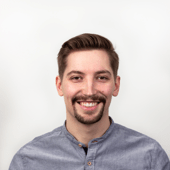 Juho Arkkola
Head of Sales, Operational Excellence – Sales and Marketing
I joined Pinja in the autumn 2018, involved in sales in the Operational Excellence unit. My main area of responsibility consists of selling products meant to our production monitoring. Besides me, our team consists of three salespersons, an SDR and two marketing professionals. At us, sales and marketing form one integral mechanism and team!
I like mobile work and this job offers me a vantage point from where to see the Finnish industry. I travel around Finland and to some extent also abroad visiting various industrial plants. My car seat wears at a praiseworthy pace.
The best thing in this job is to take up the challenge and successfully identify customers' real challenges and find solutions to them. We have good and up-to-date tools for sales enabling personal development.