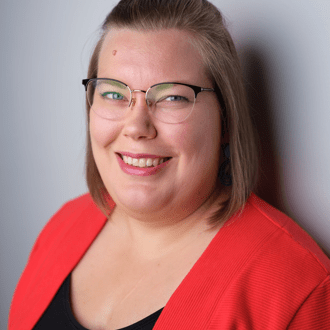 Maija Andersson
BI Expert, Team Lead – Business intelligence and data warehouses
Moro! Olen Maija Andersson ja työskenetelen Pinjalla BI-asiantuntijana, kouluttajana ja tiimin esihenkilönä Tampereella. Pinja uraa on takana tätä kirjoittaessa n. 2,5 vuotta ja Power BI:tä olen pyöritellyt enemmän tai vähemmän täysipäiväisesti nyt kuuden vuoden ajan. 
Nykyään pääosa työajastani menee asiakasprojektien parissa Power BI:llä raportteja kehittäen. Sen lisäksi koulutan Power BI:tä ja Exceliä; sekä koulutuskumppaniemme kautta että suoraan omille asiakkaille tarpeen mukaan. Esihenkilönä minulla on reilun 10 hengen tiimi BI- ja DW asiantuntijoita, joiden arjen hyvinvoinnista huolehdin. Lisäksi häärin Tampereen Naulakadun toimiston yleisnaisena ja pidän huolen, että kaikilla uusilla henkilöillä on avaimet, istumapaikat ja muutkin hommat kunnossa ja tarpeen mukaan pidän yhteyttä kiinteistöhuollon yms. suuntaan. 
Pinjassa pidään siitä, että olen päässyt vaikuttamaan omaan rooliini ja muokkaamaan siitä itseni näköisen. Hyvästä työstä palkitaan ja vastuuta annetaan jos sitä on valmis ottamaan. Työyhteisössä on todella hyvä henki, kaveria jeesitään ja yhdessä tehdään sekä töitä että vapaa-ajan hassutuksia.
---
Hi! I'm Maija Andersson and I work at Pinja as a BI expert, team leader and trainer in our Tampere office. At the time I'm writing this I have been 2,5 years at Pinja and worked with Power BI for about 6 years in total.
Currently most of my time I work with different customer projects, developing Power BI reports. I also give trainings of Power BI and Excel to both our own customers and via our training partners. As a team leader I have a team of 10+ BI and DW specialists who's well-being at work I'm taking care of. I'm also responsible for Tampere Naulakatu offices running matters, like making sure new employees get keys and a place to work and communicating with maintenance etc. when needed. 
At Pinja I like the fact that my wishes are listened and I have been able to build a role suitable to my strengths. Good work is rewarded and responsibility given if you are ready to take it. We have a great spirit where you can ask anything and always get help when you need.