Software production
·
Multiple locations
·
Fully Remote
Join Pinja as a Software Developer
How would you like to have a truly caring work community, flexible working practices and the expertise of 500 professionals at your disposal? Take the next step in your career and join us!
We're looking for front end, back end or full stack developers to work at our growing and internationalizing software company. Pinja already employs hundreds of software professionals and we welcome you to take the next steps in your career as a valued member of our team!
Pinja as a working community
We are Pinja, a community of over 500 software, knowledge management, and IT professionals in Finland. We are united by a strong professional pride in what we do, which is shared by thousands of our clients. We work on 13 in-house products and on client projects. The code is written in Finland, but we have clients on every continent.
We always work in teams and succeed together. We value each member of our work community for who they truly are. Work-life balance is one of our core values. We take care of our well-being and that of our colleagues in the midst of everyday life. Our work ethic is measured continuously, and it is found to be on an excellent level (over 4.0/5.0).

Our broad project and product portfolio allows you to vary the content of your work and evolve from one job role to another. Indeed, many of our current leaders started their careers at Pinja as juniors or trainees.

We are united by our love of data, not only to make the world a better place for ourselves, but also for our future generations. We reduce emissions and waste, extend the life cycle of production equipment, streamline logistics chains, and much more, all to the benefit of our environment. Read more on: datalovers.fi
Find out what one of Pinja's many software tams has to say abot their work and what kind of data lovers they are:

What can I do?
We are looking for talents to join our product development teams, as well as our expert services where we partner with our clients to secure their business.
You can focus your work on the front end, the back end or be the full stack pro that masters the whole chain. We use a wide range of the most common tools in the industry, including:
C#, Microsoft .Net Core & Azure Cloud Platform
PHP (Yii, Laravel, Symfony)
React & Angular
Magento
JavaEE, Java Spring
Databases, integrations
What's in it for you?
A culture of continuous learning, with 10 working days a year for personal development as a testament of this culture
Competitive staff benefits typical of the industry, including lunch benefits, sports and cultural benefits, massage benefits, comprehensive occupational health and medical insurance.
A flexible working method based on trust. You can work in our office, as a hybrid or, if you prefer, completely remotely, with a fully equipped work desk in your home office: an electric desk, an ergonomic work chair and other work equipment.
We open source a lot of our production code - to be able to present some of our work: https://github.com/by-pinja
Our work community also enjoys being together outside of work, as we organize lots of LAN parties, board game nights, sports days, nights out, and much more.
Our strong product business and broad client base make us a safe and stable place to work and develop. We are your mortgage's best friend in these special times.
How does it work?
Tell us about yourself. Above all, we want to know which of Pinja's products or teams you find most interesting, what is the sharpest point of your skills, and what kind of tasks you would like to do in our everyday life.
We go through the applications we receive with our recruitment team on a weekly basis. We will review your application and consider which of Pinja's businesses would be the best match for you.
Our recruitment process includes a technical programming test where you can show your skills.
Department

Role

Software Developer

Locations

Remote status

Fully Remote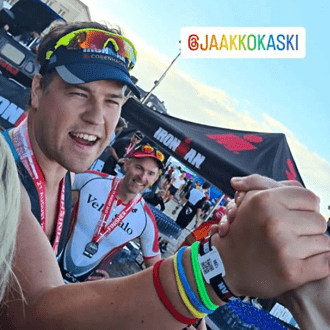 Contact
Jaakko Kaski
Director, People and Culture – Support services
What do we value in our work community?
A culture of continuous learning – our industry is characterized by rapid technological development. We ensure the value of our expertise to our clients, for example through 10 training days each year.
A good working life – work-life balance is important to us, and we value every employee's free time equally. We are not machines that can work without rest.
Flexible working – at Pinja, this means, for example, 100% remote working and flexible hours. Smooth flexibility is based on work results, mutual trust, and appreciation.
Our professional pride – what people say about us matters to us. We want to exceed our clients' expectations and be a long-term and valuable partner on their journey towards the future.
About Pinja
Pinja is an international and fast-growing software company. We employ 500 professionals and serve our clients in more than 30 countries.

We enable building industrial innovation and a digital society for example by offering various SaaS and BI solutions to our clients.
Software production
·
Multiple locations
·
Fully Remote
Join Pinja as a Software Developer
How would you like to have a truly caring work community, flexible working practices and the expertise of 500 professionals at your disposal? Take the next step in your career and join us!
Loading application form
Already working at Pinja?
Let's recruit together and find your next colleague.